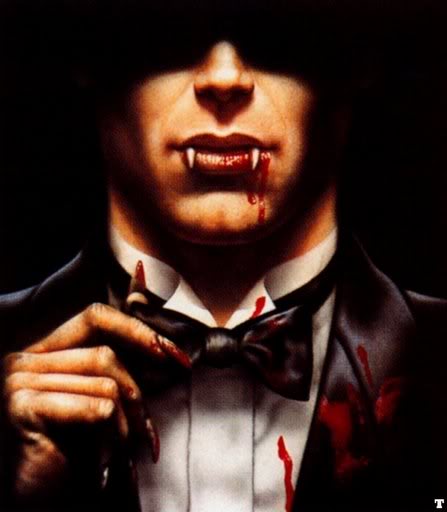 Vampire rules for WoD 3.0
Use standard racial traits, powers and flaws for Dhampir from Pathfinder Advanced Race Guide
There are the following changes:
Dhampirs are affected by light as though Blinded, not Dazzled. If a Dhampir takes Dayborn as an alternate Racial Trait, then they are only Dazzled by Sunlight.
Dhampirs start with Fangs (see description under Alternate Racial Traits) and lose Detect Undead. Feeding may also be used for regaining hitpoints. 1d6 per round, which is a full round action. Draining any sentient creature of all of it's blood is considered an Evil act for purposes of alignment.
As a general rule, however, feeding on someone that has been charmed or otherwise mentally compelled is NOT an evil action if they are left alive and does not require an attack action to feed.  Any normal saving throws or skill checks will normally apply.
All Favored Class options are still available as are all Feats listed for Dhampirs.
New Feats:
Day Walker: (pre-requisite: Dayborn Racial Trait, must be taken at 1st level)  The rays of the sun no longer cause you harm or irritation.  You sunlight or the Daylight spell no longer give the condition Dazzled.  
Night's Shroud:  (pre-requisite: 7th Character level, must not be Dayborn) You gain more resistance to sunlight and Daylight spells.  You are now only Dazzled instead of Blinded.
Important note... Dhampirs are NOT the only Vampires in this world, just the only ones available as PCs.
For the moment, these rules are not final and, if someone sees something amiss, then please point it out.
Last edited by whit10 on Mon May 12, 2014 10:44 pm; edited 2 times in total