"You don't have to be ready. You just have to go."
― Joe Abercrombie,
Before They Are Hanged
---
A cavernous, heavily fortified room, walls hewn from solid rock. Windowless, but well lit by the glowing shards of magical amber stones placed among it's structure.
A broad table with stout chairs, crafted from True Fey Oak. A living thing...it shapes itself to serve those who sit. It's boughs line the walls, cradling a collection of tomes scrolls, and maps.
On the far wall, the Portal. A white marble circle holds a well polished mirror, framed by radiant crystals, arcane symbols, and mechanical devices.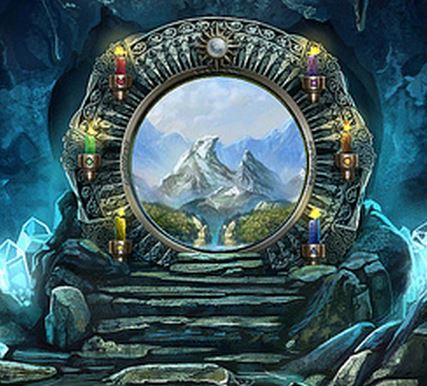 The myriad of machinery, artifacts, and formula around the portal are in an almost constant state of adjustment and tuning. Gour Maksonus, the portal's assigned technician, takes his duty very, very seriously.
In an alcove in one corner of the room, an ancient Golden Dragon. Numerous scars and a persistent limp tell the tale of battles won in eons past. Valamadarace acts as adviser, mentor, and commander.
---
The Champions stand poised before the portal, prepared to strike the Daemons and wrest control of the God Seed located on Xiq.
Gour, the portal technician, works furiously. Levers are thrown, dials adjusted, cranks turned. He shouts confirmations to Commander Valam, and the Dragon's deep, metallic baritone answers in sequence.
"Phase 1 check - COMPLETE!" reports Gour.
"Phase 1 confirmed." answers Valam
"Frequency balance optimized!
"Portal Balance optimum."
"Commencing final Vector lock!"
"Vector lock approved."
"Vector lock in
FIVE!
FOUR!
THREE!
TWO!
"HOLD! DO NOT LOCK!!!!!"  Bellows Commander Valam, his voice rattling the cavern.
"What the.....VECTOR LOCK HOLD, STANDING BY!" replies Gour gruffly.
---
"Attend the Scry" directs Commander Valam, gesturing to the holograpic display forming over the planning table -
The scene is at first familiar. the Hero's of Xiq are under assault from Daemonic forces that have poured through the Enemy Portal.
Only now, another Portal opens. A half-dozen giant, hulking beings appear. Their skin is black and pitted, like roughly cast iron, and etched with glowing red runes. They carry swords and spears the size of trees, and quickly set upon the Daemons.
"Escalation. Another faction has sensed the God Seed" growls Commander Valam.
"Aye, Sir. Engaging threat power sensors..." barks Gour. "Sensors report Challenge Rating 22"
"Curses and hex!" proclaims Commander Valam. "Too much, too much. Stand down Champions, and stand by."
Flashes of fire and sparks. Cast Iron weapons cleave and crush...the Giants wade through the Daemons and the heroes with shocking speed and brutality.
The Scry fades, and the room is silent.
"The God Seed is lost." declares Commander Valam, his voice heavy with regret.
---
A blinking red light strobes in an orb located on Commander Valam's dias.
"Priority mission, short window!" he shouts, and Gour scrambles back into action around the Portal, cursing under his breath.
"Gour - Set coordinates Axe FOUR ONE, Bolt ONE EIGHT, Club THREE THREE, Torch ONE FIVE FIVE SEVEN FOUR NINE."
"Vex, sir?" asks Gour, eyes wide with surprise. "AYE, SIR - Vector lock in two minutes!"
"Champions - attend the Scry!"  
---
Last edited by MAS on Mon Jun 23, 2014 7:04 pm; edited 4 times in total