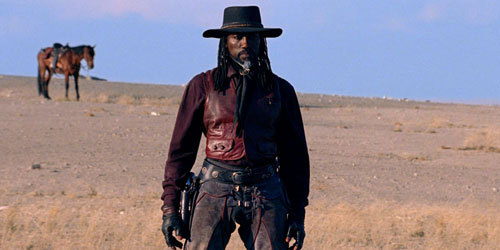 "You know what the worst thing about war is?  It's not the destruction, the loss of life, the carnage... those are bad, of course.  For me, it's what you do when the war is over and that's all you've ever known.  I was born to fight... raised to fight.  Hell, when other kids were playing with dolls and toys and that shit, I was learning to fire a gun for the first time.  Joined the army at 14 (I was big for my age)... and never looked back.  Then the war was over, won.  Now what?  I found serenity and enlightenment... but it only served to create more questions.  
Magic was nearly unheard of on my world.  So you can imagine my surprise when a man (who's glowing blue mind you) shows up one day and says "you're the one I've been seeking.  Allow me to see your guns and I will prepare you for a fight like one you have never seen before."  Ok, why not... some crazy looking blue skinned wizard says he'll make my guns better and hands me a bag full of sticks and 'magical' gear?  Sounds good to me... but this 'fight like one I haven't seen before'?  
Now why do I get a REALLY bad feeling about that?  
But I will walk the path before me... it is seldom uneventful.
Name: Jules       Race: Human        Alignment: LN
Class: Gunslinger/Monk – 15/1: (Favored Class: GS) 3 skill pts., 12 to Grit = 3 full pts.
Abilities
Stat Bonus point gained - level
Str: 12  +1   temp 10
Dex: 20 (26)  +8   4th, 8th temp. 24
Con: 14  +2  
Int: 14  +2
Wis: 18 (24)  +7  12th, 16th
Cha: 7  -2
Skills:  116
Name: Ranks Abil. Mod. Misc. Mod. Total
Acrobatics 15 8 26
Bluff
Climb 7 1 11
Craft
Escape Artist 13 8 24
Handle Animal
Heal 2 7 12
Intimidate
Know.
Engine 2 2 7
Local 5 2 10
Religion 5 2 10
History
Perception 16 7 26
Ride 1 8 12
Sense Motive 10 7 20
Sleight of Hand 10 8 21
Stealth 10 8 21
Survival 2 7 12
Swim 2 1 6
UMD 16 -2 1 18
Traits: Dangerously Curious: UMD is class skill and +1
Anatomist: +1 on all Critical Confirmation rolls
Gunslinger Abilities:
Grit Points: 10 (Regain 1 point on any confirmed crit. hit with a gun or on any kill with a gun)
Gun Training 3:  Dex bonus added to firearms damage – revolvers, rifle, and shotgun
Nimble:  +4 to Dodge as long as no loss of Dex bonus
Deeds:  See Gunslinger description in Ultimate Combat.  Gunslingers can perform all Deeds that they qualify for (up to number of Grit Points available).
The following effects are constant as long as there is 1 Grit Point left in his pool.
Evasion, Uncanny Dodge, Improved Uncanny Dodge,
Bleeding Shot does not cost as long as there is one point in his Grit pool: ability damage from Bleeding Shot costs 1 Grit Point.
+2 to Initiative; may draw a single firearm (as long as not concealed) as part of initiative check
Feats:
1st: Point Blank Shot, Precise Shot
3rd: Weapon Finesse, Dodge (Monk Bonus), Imp. Unarmed Strike, Stunning Fist
5th: Two-weapon fighting, Mobility
7th: Leaping Shot
9th: Signature Deed – Bleeding Wound, Quick Draw
11th: Improved Critical – revolvers
13th: Critical Focus, Improved Critical - Rifle
15th: Rapid Reload – Rifle
Mythic Feat:  Improved Critical (Mythic) – Revolvers
Mythic Powers:
Champion
Distant Barrage
Limitless Range: range increment is 5x normal
Surge 1d6, Mythic Power: 5, Hard to Kill
Combat: BAB: +15 CMB: 16 CMD: 41
HP: 192 Initiative: +10 Movement: 30'
Weapons:
Name Attack Bonus     Damage Crit: Special Range
+1 Revolver 24/19/14   1d8+9 +1d6 cold 19-20/x5 Cold 100'
+1 Revolver 24/19/14   1d8+9 +1d6 shock 19-20/x5 Elec. 100'
+1 Breech Load Rifle 24/19/14   1d10+9 +1d6 acid 19-20x4 Reliable/Acid 30'
+1 DB Shotgun 24 (22/22)   1d8+9 +1d6 fire x2 Scatter/Fire 100'
+1 Revolver 24/19/14   1d8+9 19-20/x5 20'
+1 Dagger 24/19/14   1d4+2 19-20/x2
Unarmed Attack 24/19/14   1d6 +1 x2
Rifle is re-loaded as a free action.
All guns miss-fire on a roll of 1 (Shotgun 1or 2) except for the Rifle (does not miss-fire)
320 pistol rounds, 300 rifle rounds, and 120 shotgun rounds all in Haversack
50 Adamantine Rifle rounds
Pistol belt- 18 rounds, Rifle belt (across his chest) 20 rounds, 6 shotgun shells in left coat pocket)
AC: 38 (temp -1 from Dex loss)  Temp: 42   Touch: 34 FF:  18 (can't be under normal circum.)
Armor:  Bracers +5
Dex Bonus: 8 Wis. Bonus: 7 Armor Bonus: 5
Dodge Bonus: 5 Deflection: 4
Temp Bonus - Shield Spell +4 shield bonus and negates Magic Missile
Saves:
Base Abil. Mod. Misc. Mod.   Total
Fort: 11 2 3 16
Ref: 11 8 3 22
Will: 7 7 3 17
Hero Points: 2
Magic Items:
Tome of Understanding: +1 to Wisdom
Belt of Incredible Dexterity: +6
Headband of Inspired Wisdom: +6
Bracers of Armor +5
Ring of Protection +4
Ring of Foe Focus: +2 to AC and Saving Throws vs. one opponent; may change at will.
Wand of Shield – 50 charges
Glove of Storing
Necklace of Adaptation
Handy Haversack
Far-Reaching Sight – On Rifle
Oil of Silence – 10 vials
Cloak of Resistance +3 (Long Coat)
Boots of Speed
Wand of Darkvision – 50 charges
Wand of Cure Moderate Wounds – 50 charges
Wand of Resist Energy - Acid – 12 charges
Wand of Resist Energy - Fire – 12 charges
Wand of Resist Energy - Cold – 12 charges
Wand of Resist Energy - Electricity – 12 charges
Feather Token – Tree (3)
Wand of Greater Invisibility – 25 charges
Wand of Prayer – 25 charges
Wand of Death Ward – 25 charges
2 potions of Bulls Strength
2 potions of Fly
Blood Reservoir of Physical Prowess, fully charged (hangs off of under arm pistol)
3,075 gp.
Attachments

Jules - Gunslinger.docx

(23 Kb) Downloaded 36 times