Ian was in the city watch; that is all he ever did with his life. He is a classic underachiever who had great potential (blessed with paladin abilities) that was never realized.  The guy literally never left the city where he grew up and became part of the town guard.  He never made Sgt and always got passed over for promotion - not because he wasn't talented, but he was just generally lazy and didn't try too hard.  He believes in law&order and justice and goodness..... but most of the time he lacked the effort to get the job done.
He never married and had no kids, that would have been too hard.  He probably drank a lot when he was part of the watch.
Something happened after his retirement (for which there was no party) - but I am not sure what yet.  Whatever it was, it sparked something inside him.  He left to wander the countryside and see as much of the world as he could with the days he has left.  
He isn't very smart and not particularly wise.  I kind of picture him like a Quigonn that failed to become a jedi.  He is haggard and tired but more alive than when he was a younger man.  He is around 50-55, but still has the strength of a bear.  He just walks everywhere.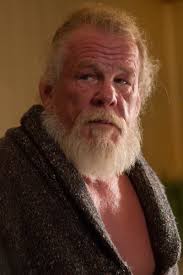 Last edited by Chris on Fri Jan 29, 2016 11:15 am; edited 4 times in total