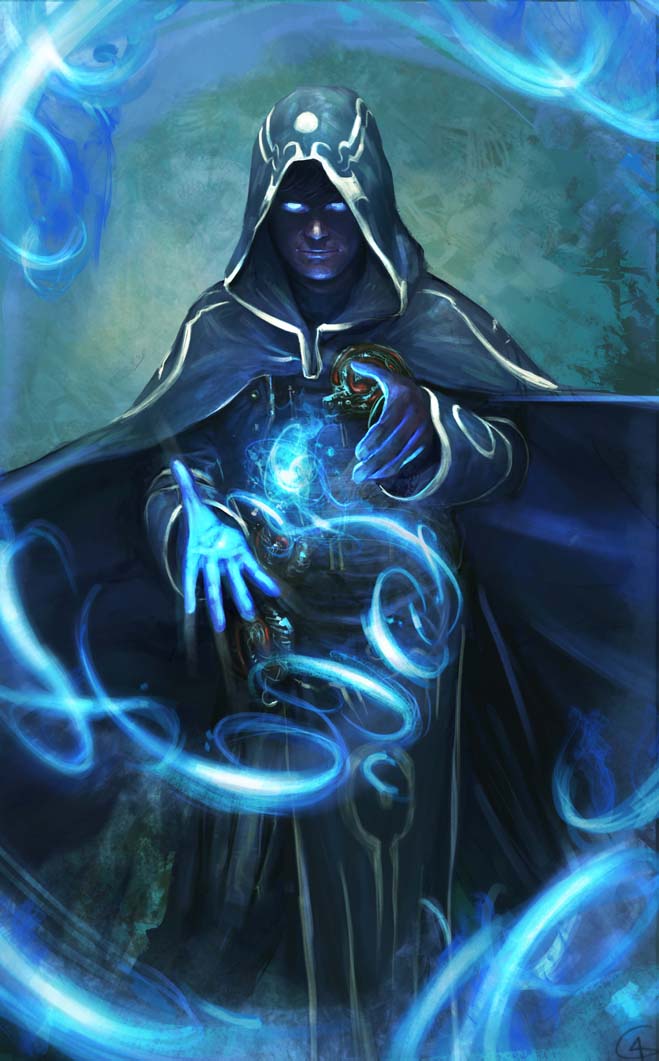 Genassi (fire) Wizard
background: Sage
born under a Lucky sign (3 luck pts)
Level: 1
Int: 16 +3
Wis:  14 +2
Cha: 10
Con: 16 +3
Dex: 10
Str: 8
HP: 18
AC: 10
Move: 30'
prof: +2
Initiative: 0
Passive Perception: 12
Saves: INT, WIS
Skills:   Investigation, insight, Arcana, Astrology
Languages: Common, Primordial, Flame, Bright
Cantrips known: 3    
Firebolt
Minor Illusion
Ray of Frost
*Produce Flame
1st lvl spells known: 8 (*5 prepared per day)
Sleep *
Thunderwave *
Shield *
Magic Missile *
Find Familiar - Spider
Charm Person
Fog Cloud *
Identify
Spells slots: 3
A r c a n e R e c o v e r y
You have learned to regain some o f your magical energy
by studying your spellbook. Once per day when you
finish a short rest, you can choose expended spell slots
to recover. The spell slots can have a combined level that
is equal to or less than half your wizard level (rounded
up), and none o f the slots can be 6th level or higher.
For example, if you're a 4th-level wizard, you can recover
up to two levels worth o f spell slots. You can recover either
a 2nd-level spell slot or two 1st-level spell slots.
Genasi:
Ability Score Increase: Your Constitution score increases by 2.
Age: Genasi mature at about the same rate as humans and reach adulthood in their late teens. They live somewhat longer than humans do, up to 120 years.
Size: Genasi are as varied as their mortal parents but are generally built like humans, standing anywhere from 5 feet to over 6 feet tall. Your size is Medium.
Speed: Your base walking speed is 30 feet.
Languages: You can speak, read, and write Common and Primordial. Primordial is a guttural language, filled with harsh syllables and hard consonants.
Subraces: Choose one of these sub-races.
Fire Genasi: As a fire genasi, you have inherited the volatile mood and keen mind of the efreet. You tend toward impatience and making snap judgments. Rather than hide your distinctive appearance, you exult in it. Nearly all fire genasi are feverishly hot as if burning inside, an impression reinforced by flaming red, coalblack, or ash-gray skin tones. The more human-looking have fiery red hair that writhes under extreme emotion, while more exotic specimens sport actual flames dancing on their heads. Fire genasi voices might sound like crackling flames, and their eyes flare when angered. Some are accompanied by the faint scent of brimstone.
Ability Score Increase: Your Intelligence score increases by 1.
Darkvision: You can see in dim light within 60 feet of you as if it were bright light, and in darkness as if it were dim light. Your ties to the Elemental Plane of Fire make your darkvision unusual: everything you see in darkness is in a shade of red.
Fire Resistance: You have resistance to fire damage.
Reach to the Blaze: You know the produce flame cantrip. Once you reach 3rd level, you can cast the burning hands spell once with this trait as a 1st-level spell, and you regain the ability to cast it this way when you finish a long rest. Constitution is your spellcasting ability for these spells.
F e a t u r e : R e s e a r c h e r
When you attempt to learn or recall a piece of lore, if you
do not know that information, you often know where and
from w hom you can obtain it. Usually, this information
comes from a library, scriptorium, university, or a sage
or other learned person or creature. Your DM might
rule that the knowledge you seek is secreted away in an
almost inaccessible place, or that it simply cannot be
found. Unearthing the deepest secrets o f the multiverse
can require an adventure or even a whole campaign.
S c h o o l o f D i v i n a t i o n
The counsel of a diviner is sought by royalty and com m oners alike, for all seek a clearer understanding of the past, present, and future. As a diviner, you strive to part the veils of space, time, and consciousness so that you can see clearly. You work to master spells of discernment, remote viewing, supernatural knowledge, and foresight.
D i v i n a t i o n Sa v a n t Beginning when you select this school at 2nd level, the gold and time you must spend to copy a divination spell into your spellbook is halved.
P o r t e n t
Starting at 2nd level when you choose this school, glimpses of the future begin to press in on your awareness. When you finish a long rest, roll two d20s and record the numbers rolled. You can replace any attack roll, saving throw, or ability check made by you or a creature that you can see with one of these foretelling rolls. You must choose to do so before the roll, and you can replace a roll in this way only once per turn. Each foretelling roll can be used only once. W hen you finish a long rest, you lose any unused foretelling rolls.
Equipment (max starting gold 120, spent 85): cash on hand 35g
quarterstaff 5g (arcane focus)
component pouch 25g
dagger 2g
backpack 2g
bedroll 1g
blanket 2s
travellers clothes 2g
lantern 5g
mess kit 2s
rations 50s (10\10 days)
waterskins  2sp
Last edited by Chris on Fri Dec 16, 2016 11:46 am; edited 5 times in total