Small darts of pure Force streak through the air and finish off the Bombarier Beetle formerly located around M-58.  It's dead husk crashes to the ground (using miss table for thrown objects) and lands at N-60 splattering like a bug on the windshield and creating a puddle of oil, catching its pilot in the field.
at 15, Necron Warriors take their turns.  
4 in the bottom map, readjust their positions and READY an action to fire on any new threat.
1 moves north onto map 2, on the right and fires at Brick, but rolls a 13, misses
2 fire at Korvaq, on the left, rolling 14 and 20, for 1 hit from a disintegration rifle
Korvaq takes
Roll(3d6)+0:
6,6,6,+0
Total:18 damage
A clever Necron at H-45 takes a double move as noted in the yellow arrows.  It runs diagonally forward, through the oil field, coating himself in oil.  It then turns north for 10ft and ignites itself on the wall of fire, taking damage.  It then doubles back to the oil field and in a feat of self immolation, ignites himself (again) and the oil field.  It slumps to the ground afterwards, smoldering.
Korvaq is now burning and takes
Roll(2d4)+0:
4,2,+0
Total:6 FIRE damage (minus any resistance)
FIRE fields block LoS
at 14, the swirling winds form into a humanoid tornado as an air elemental joins the fight.

maps updated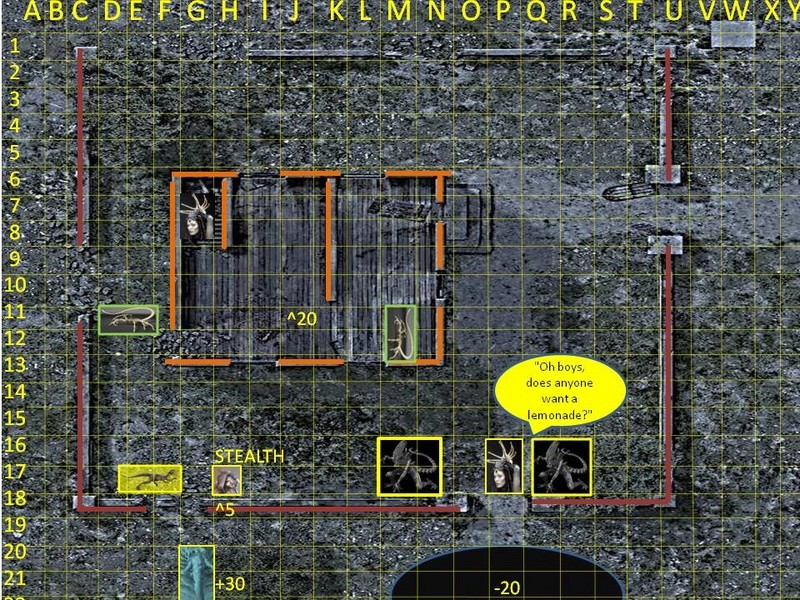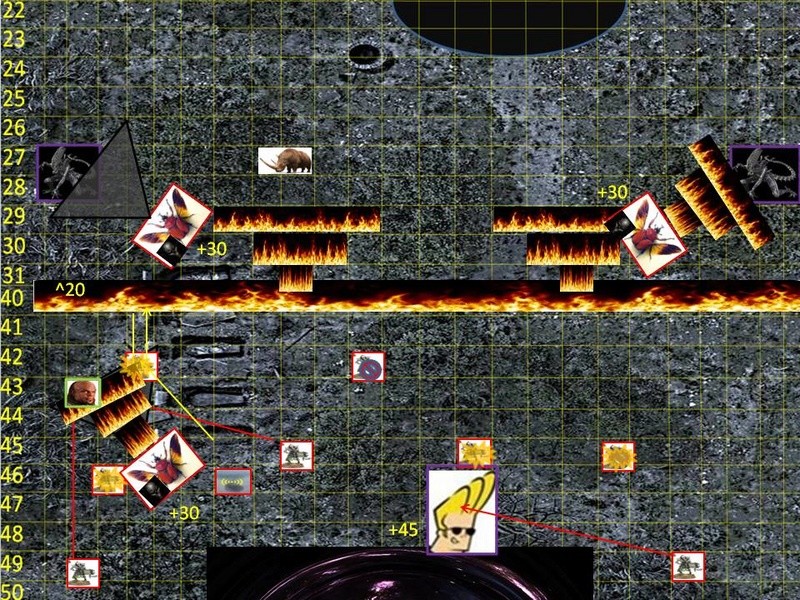 Chris wrote:
ROUND 3 - FIGHT!

Korvaq 21
Argul 18, Wasps DELAY
NECRON Warriors 15, 4 READY
Zang\Skree, Rhino, Air Elemental  14
Rasso 14
Cmdr Ignis 10
Repair swarms 10
Brick 5
Necron Pilots + Flying Bombadier Beetles  1
Zang, Skree, Rhino and AE are up