LOMAX-23 / Ghost
Bugbear – Augmented Human
Fighter 8
Outlander: Outcast/Exhile
NG, 7'2'' tall, 333 lbs
STR: 18 +4 *+7
DEX: 20 +5
CON: 14 +2 *+5
INT: 10 0
WIS: 12 +1 *+4
CHA: 10 0
AC: 18, Studded Leather (mithril fibers +1)
HP: 96
Hit Dice: 8d10
Move: 30'
Initiative: +5
Pass Perc: 14
Prof Bonus: +3
Weapons:
Scimitar – Laser Katana (hi tech +1): +9 Atk, 1d6+6R (Finesse, Light)
Sub Machine Gun (smartlink +1): +11 Atk, 1d10+6P, range 100/400 (2H)
Longbow: +10 Atk, 1d8+5P, range 150/600 (2H)
Antimatter Pistol: +10 Atk, 1d6+5N, range 30/120 (Light)
Dagger +8 Atk (+10 thrown), 1d4+5P, range 20/60 (Finesse, Light, Thrown)
Skills (*Proficient):
* Acrobatics +8
*Athletics +7
*Persuasion +3
*Perception +4
*Survival +4
*Stealth +8
Proficient: All Armor, Shields, Simple Weapons, Martial Weapons, Ocarina
Languages: Common, Goblin, Thieves Cant
Abilities:
Bugbear (Cyborg):
Darkvision – Cybereyes
Long Limbed – Cyberlimbs: Reach +5'
Powerful Build – Bone Lacing
Sneaky – Wired Reflexes: Proficient in Stealth
Surprise Attack: 2d6 damage (x1/combat)
Outlander (Outcast):
Feature: Wanderer
Proficient in Athletics & Survival
Fighter (Samurai):
Proficient in Perception & Acrobatics
Fighting Style: Archery (+2 ranged attacks)
Second Wind
Action Surge (x1)
Martial Archetype: Samurai
Bonus Proficiency: Persuasion
Fighting Spirit: As a Bonus Action (on my turn), gain Advantage on all weapon attacks. Also gain +5 Temporary Hit Points. (x3/Long Rest)
Elegant Courtier: Add Wisdom Bonus to Persuasion checks. Proficient in Wisdom Saves.
Extra Attack: x1
Equipment:
Ocarina
Staff
Hunting Trap
Trophy (pelt of a R.U.S.)
Set of Traveler's Clothes
Belt Pouch
Scimitar - Katana (enchanted +1)
Studded Leather armor (+1)
Longbow & 20 arrows
Submachine Gun (smartlink +1)
Pistol
Dagger
Explorer's Pack: backpack, bedroll, mess kit, tinderbox, x10 torches, x10 days rations, waterskin, 50' hemp rope
Comlink (blackmarket, fake SIN, +1 Stealth and Deception checks)
Treasure:
10 +  571GP (originally)
Now: 261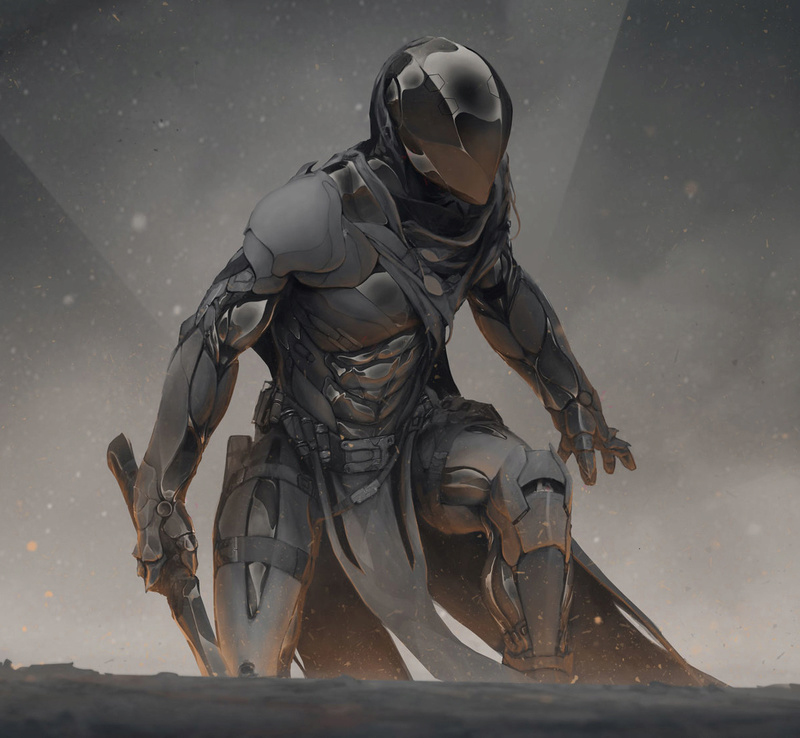 Ghost comes from the cyberpunk ward... He's a street sam type, who actually holds value in Honour. Grown in a vat on a corporate compound, and augmented on with experimental cyber and bio tech, he escaped.
For awhile he lived in the Barrens, a wasteland region near the elemental plane of Ash. He has since moved to the city. A loner for a long time, but has lately been willing to work with others for a common honorable goal.
More to come...
Last edited by Robyo on Thu Dec 07, 2017 2:40 pm; edited 8 times in total