Whitey wrote:Crispy will use his Elemental Attunement to create a flaming dragon shape with a 1' wingspan  hovering 15' over the Cog at T-10. (If he needs to reposition himself to achieve LOS please advise)

LoS....  if this were a spell, I would say that you don't have LoS\LoE, but the description of the ability doesn't list any range, verbal\somatic gestures or anything.  It's as if the elements just obey your desires, so.....
a crudely shaped flaming dragon appears off the port side stern about 15ft above the Cog, which is about 35ft in the air
it seems to go unnoticed for a moment, until Unfeather chirps up, "<sqwak> pretty bird!  pretty bird! <sqwak>"
the table game goes quiet and you can hear murmurs of "well... blow me down"  "what in the blazes?"  and from the Tiefling whores "ooooh"  "how pretty!"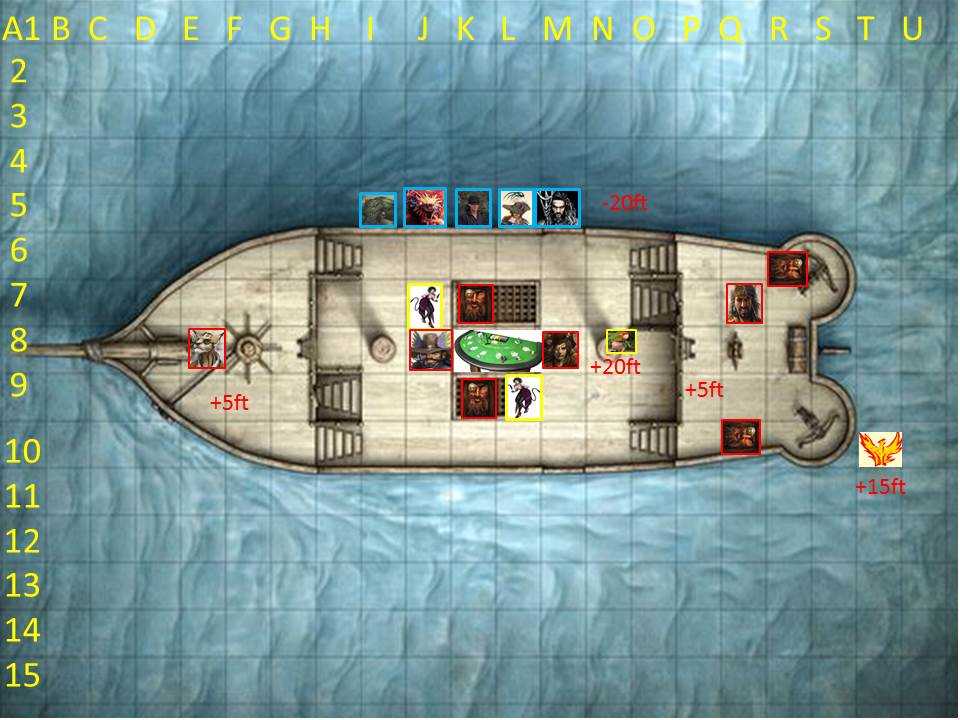 since I just realized that we are dealing with some 3d combat, I added elevations in red.  
ground level = main deck of the Cog with the gaming table
fore\aft decks = +5ft
water = -20ft
fire bird = +15ft
Unfeathers = +20ft up in the rigging
Chris wrote:
initiative

** Crispy distraction **

Renda 23
Sjon 19
Hawkes 16
Sam 14
Crispy 13





Renda is up
Sjon on deck