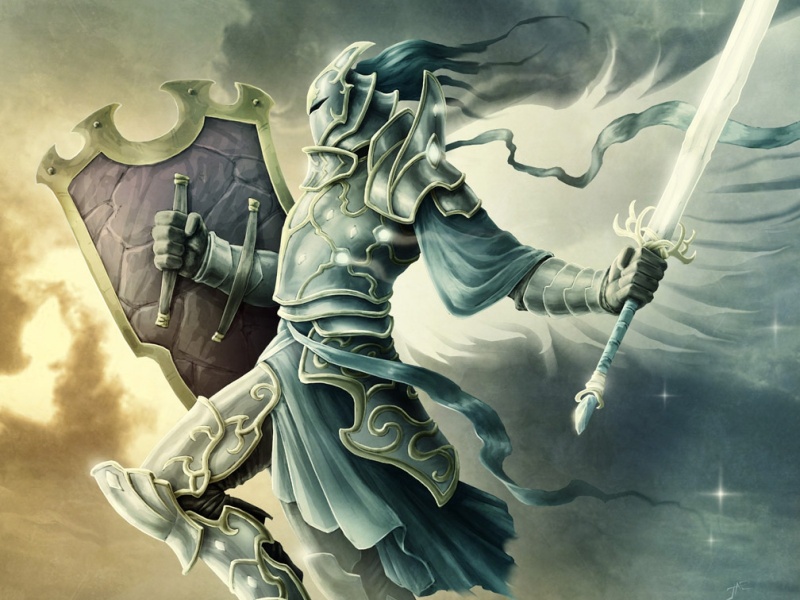 "Demons, I hate Demons.  The lies, the trickery, the loaded contracts, the possessions, the bloody messes they make among mortals… they really need to be destroyed with extreme prejudice.
I've fought them on every battlefield that there is, from the fields to the cities, to the Abyss itself.  They get more devious, more destructive, but they must be fought.  Fortunately, there are enough victories to keep their influence in check… until now.  Something is happening.  My Divine Mistress Serenrae has revealed this to me.  She has charged me to defend the mortals no matter what… even if it brings about the death of her most favored champion.  
So I will find the source of this new horror, and I will destroy it.  Demons?  Bah, I hope they're involved!  So much sweeter the victory.
…though, if they have those horrifying little four-legged things that eat metal, I'm going to have to come up with a plan B."
The legends say that Sarenrae, when she saw just how vile the Lords of Evil could be, decided to create a supreme champion.  A being of such incredible abilities and loyalty that all free people would be protected for many centuries.  To make this being, she took the metal from a fallen star that had landed in the primordial fire at the world's creation and then breathed life into it and, like her other creations, he is one of the original Aasimar.  She named him Tyrale – Champion of the Sun.  But in her wisdom, she made him not quite immortal.  He lived amongst mortals for the first century of his life, learning to be both scholar and warrior.  For three centuries hence, he has been the champion of both good and the will of Sarenrae.  While possessed of humor and good will to all who are good or, at the very least, not diabolical or vicious; he gives no quarter to any demon, devil or minions of the dark forces.
… While immune to fear, Tyrael REALLY doesn't like Rust Monsters.
Tyrael   Class: Paladin/Fighter (9th and 10th levels)   Alignment: LG
Level: 14/2 –  Fav. Class: all points to Skills
Race: Aasimar   Eyes: Sapphire Blue Skin: Metallic
Abilties: Mod Increased
Str      16 (20) 5 4th
Dex    16(20) 5
Con    14 (18) 4 12th
Int      12 1 16th
Wis    12 1
Cha    18(24)   7 8th
Skills: 62
Ranks Abil. Mod. Misc. Mod. Total
Climb 5 5
Diplomacy 13 7   2 25
Fly 15 5 23
Hand. Anim.
Heal
Intimidate 12 7 22
Know.
Reli. 7 1 11
Plane. 6 1   1 11
Linguistics* 2
Perc.* 7 1    2 10
Ride
Sense Motive
Spellcraft
Survival
Swim
*denotes non- class skill
Languages: Celestial, Common, Sylvan.  Abyssal and Infernal (Linguistics)
Aasimar Racial Abilities
Darkvision: 60'
Spell-Like Ability: Daylight – 1/day (caster level equal to class level).
Celestial Resistance:
Aasimars have acid resistance 5, cold resistance 5, and electricity resistance 5.
+2 to Diplomacy and Perception
Traits:
Armor Expert: -1 to AC check penalty
Scholar of the Great Beyond: Know. Planes becomes class skill and +1
Paladin Class Abilities
Detect Evil 60' at will as spell
Charisma bonus to saves
Smite Evil – 5/day – Cha. Bonus to attack and Pal. Level to damage, double level in damage vs.
Evil Outsiders, Dragons and Undead on 1st attack.
Immune to: Fear, Disease, Charm and Charm like spells,
All Allies within 10' gain +4 to saves vs. Fear, Charm,
Lay on Hands – 7d6 – 14 times/day
Channel: as Cleric – 2 uses of Lay on Hands
Mercies: Fatigued, Diseased, Exhausted and Paralyzed
Sacred Bond – Weapon - +4 worth of bonus, 3/day
Aura of Righteousness – Grant smite evil to allies within 10'
Aura of Faith – Weapons are good aligned vs. damage reduction
Spells: 1st - 5, 2nd - 4, 3rd - 3, 4th - 3
Feats:
1st: Angelic Blood - You gain a +2 bonus on saving throws against effects with the evil descriptor and on Constitution checks to stabilize when you are reduced to negative hit points (but not dead). Furthermore, each time you take bleed or blood drain damage, each undead creature or creature with the evil subtype that is currently adjacent to you also takes 1 point of damage.
3rd: Angelic Flesh – Steel - +1 to Nat. AC, unarmed/natural attacks count as cold iron
5th: Selective Channel
7th: Exotic Weapon – Bastard Sword
9th: Angelic Wings, Vital Strike
10th: Fly By Attack
11th: Word of Healing – Lay on Hands for ½ normal pts. from 30', all mercies apply
13th: Improved Vital Strike
15th: Metallic Wings – two wing attacks – natural attack, 1d4 damage
Mythic Powers: Champion
Champion's Strike – Fleet Charge: Swift action to move normal speed and attack
Mythic Feat: Vital Strike (Mythic)
Hard to Kill, Surge – 1d6, Mythic Power: 5
Path Ability:  Mythic Smite – regain Smite Evil uses for 1 use of Mythic power
Combat: Hero Points: 3
Weapon: Attack Damage Crit Special
+2 Mith. Bast. Swd. 23/18/13/8 1d10+7       19-20x2
+2 Adam. Warham.     23/18/13/8 1d8+7 x3
MW Comp. Lg. Bw. 21/16/11/6 1d8 +5 x3
+1 Long Spear 22/17/12/7 1d8+8       19-20x3 Brace, Reach, Keen
Initiative: +5   CMB: 20 CMD: 36 HP: 229
Movement:  30' (including flight – average maneuverability)
AC: 34
FF: 29 Touch AC: 17
Armor Bonus: 10 Shield Bonus: 4
Dex bonus: 5 Natural AC bonus: 3 Deflection: 2
Armor:
+4 Righteous Mithril Breast Plate Armor bonus: 6 (10) Max Dex: 5
AC penalty: 0
+2 Celestial Shield: AC bonus: 4 AC penalty: 0
Special: Blinding, Feather Fall 1/day
Saves
Base Abil. Mod. Misc. Mod   Total
Fort 12    4   10 26
Reflex 4    5   10 19
Will: 9   1   10 20
+2 on all saves vs. effects with Evil descriptor
Spell List: (Average listing but can be changed every day)
Spells: 1st - 5, 2nd - 4, 3rd - 3, 4th - 3
1st:  Hero's Defiance, Protection from Evil (2), Lesser Restoration, Divine Favor
2nd:  Shield Other, Resist Energy, Undetectable Alignment, Remove Paralysis
3rd:  Remove Curse, Prayer, Cure Blindness/Deafness
4th: King's Castle, Death Ward, Restoration
Magic Items:
Celestial Shield – Aasimar item
Ambrosia: 10 vials
Celestial Censor – 2 – 5 Smokesticks
Bag of Holding – Type 1
Manual – Quickness of Action +1 to Dex  
Headband – Alluring Charisma +6
Belt – Physical Perfection: +4 to all phys. stats
Glove of Storing
Boots of Speed
Ring of Evasion
Ring of Protection +2
Amulet – Natural AC bonus +2
Cloak of Resistance - +3
Scabbard of Keen Edges
Blood Reservoir of Physical Prowess
– See Ultimate Equip., Slotless Wond. Item (attached to sword and fully charged)
Bag of Holding contents:
Ambrosia, Censors, Smokesticks and Healing potions
4 full quivers of arrows
2 – 50' sections of silk rope
Rations for 6 for two weeks
4 water skins
2 wine skins
10 vials of holy water
4 flasks of oil
4 blankets and one large tent
Scroll:  Death Ward (2)
2 Cure Serious Wounds potions
50 gp
Attachments

Tyrael.docx

(25 Kb) Downloaded 36 times
Last edited by whit10 on Mon Mar 03, 2014 11:22 pm; edited 18 times in total