Sharnralkin of Oojwarg clan
Wookie  225 years, 2.3 meters, 150 kg, Brown hair/eyes
Monk 2 / Cleric 9
Chaotic Neutral
STR: 12 (16), +1 (+3)
DEX: 14, +2
CON: 10
INT: 10
WIS: 21 (25), +5 (+7)
CHA: 8, -1
HP: 96 (11d8 HD,+8 Favored Class)
AC: 21 (Dex: +2, Wis: +7, Dodge +1, Robe +1)
FORT: +11
REFLEX: +8
WILL: +16
Speed: 40', Climb 30'
Initiative: +4
BAB: +7/+1
CMB: +10
CMD: +17
Hero Points: 2
Weapon: Attk,Dam,Crit,Range...*Flurry of Blows
Unarmed Strike: +12/+6, 1d8+7/1d8+7, 20,- (F/Blows, Stunning Strike, Force-imbued +2 combat gloves)
Gaderffii "Gaffi Stick": +10/+4, 1d8+3/1d6+3, 20,- (Flurry of Blows)
Lightsaber (Double): +11/+5, 2d6+4, 19-20,- (Flurry of Blows, Force-imbued +1)
Bowcaster: +9/+3, 3d10, 19-20, 10m range (20 quarrels)
Net: 10' range
SKILLS
*Repair/Mechanics: +13
Computer: +8
Acrobatics: +6
Appraise: 0
Bluff: -1
Climb: +7
Diplomacy: -1
Disable Device: +2
Disguise: -1
Escape Artist: +6
Fly: +2
Handle Animal: -1
Heal: +11
Intimidate: +7
Knowledge – History: +4
*Knowledge – Local: +13
*Knowledge – Nature: +13
Knowledge – The Force: +4
Perception: +12
Perform –  Gladiatorial Movement: +3
Profession – Gladiator: +11
Profession – Holovid Producer (Entertainer):  +11
Ride: +6
Sense Motive: +11
Sleight of Hand: +2
Spellcraft: +4
Stealth: +7
Survival: +12
Swim: +7
Use Magic Device: -1
(*DM Bonus)
RACE: Wookie
0  Medium
0  Standard Ability Mod: +2 STR, +2 WIS, -2 CHA
6  Fast healing
+1  Languages: Xenophobic & No Basic
2  Frenzy
2 Climb
2 Static Bonus Feat: Intimidating Prowess
= 11 Race Points
TRAITS
Orphaned
Reactionary
FEATS
Intimidating Prowess (racial bonus)
Improved Unarmed Strike (monk bonus)
Improved Grapple (monk bonus)
Dodge (monk bonus)
Great Fortitude (1st level)
Exotic Weapon Proficiency: Double Lightsaber (3rd)
Extra Channel (5th):You can channel divine energy more often.
Prerequisite: Channel energy class feature.
Benefit: You can channel energy two additional times per day.
Improved Channel (7th):Your channeled energy is harder to resist.
Prerequisite: Channel energy class feature.
Benefit: Add 2 to the DC of saving throws made to resist the effects of your channel energy ability.
Liberator (9th)
Titan Strike (Mythic)
Channel Smite (11th):You can channel your divine energy through a melee weapon you wield.
Prerequisite: Channel energy class feature.
Benefit: Before you make a melee attack roll, you can choose to spend one use of your channel energy ability as a swift action. If you channel positive energy and you hit an undead creature, that creature takes an amount of additional damage equal to the damage dealt by your channel positive energy ability. If you channel negative energy and you hit a living creature, that creature takes an amount of additional damage equal to the damage dealt by your channel negative energy ability. Your target can make a Will save, as normal, to halve this additional damage. If your attack misses, the channel energy ability is still expended with no effect.
Fame - as in SW, grants bonus in social situations (DM bonus)
MONK
Flurry of Blows
Stunning Fist
Unarmed Strike: 1d6
Evasion
Bonus Feats
CLERIC
Aura
Channel Energy (negative): 5d6, x4/day
An evil cleric (or a neutral cleric who worships an evil deity) channels negative energy and can choose to deal damage to living creatures or to heal undead creatures. A neutral cleric of a neutral deity (or one who is not devoted to a particular deity) must choose whether she channels positive or negative energy. Once this choice is made, it cannot be reversed. This decision also determines whether the cleric can cast spontaneous cure or inflict spells (see spontaneous casting).
Channeling energy causes a burst that affects all creatures of one type (either undead or living) in a 30-foot radius centered on the cleric. The amount of damage dealt or healed is equal to 1d6 points of damage plus 1d6 points of damage for every two cleric levels beyond 1st (2d6 at 3rd, 3d6 at 5th, and so on). Creatures that take damage from channeled energy receive a Will save to halve the damage. The DC of this save is equal to 10 + 1/2 the cleric's level + the cleric's Charisma modifier. Creatures healed by channel energy cannot exceed their maximum hit point total—all excess healing is lost. A cleric may channel energy a number of times per day equal to 3 + her Charisma modifier. This is a standard action that does not provoke an attack of opportunity. A cleric can choose whether or not to include herself in this effect.
Domains: Madness & Travel
Vision of Madness (Sp): You can give a creature a vision of madness as a melee touch attack. Choose one of the following: attack rolls, saving throws, or skill checks. The target receives a bonus to the chosen rolls equal to ½ your cleric level (minimum +1) and a penalty to the other two types of rolls equal to ½ your cleric level (minimum –1). This effect fades after 3 rounds. You can use this ability a number of times per day equal to 3 + your Wisdom modifier.
Aura of Madness (Su): At 8th level, you can emit a 30-foot aura of madness for a number of rounds per day equal to your cleric level. Enemies within this aura are affected by confusion unless they make a Will save with a DC equal to 10 + ½ your Cleric level + your Wisdom modifier. The confusion effect ends immediately when the creature leaves the area or the aura expires. Creatures that succeed on their saving throw are immune to this aura for 24 hours. These rounds do not need to be consecutive.
Agile Feet (Su): As a free action, you can gain increased mobility for 1 round. For the next round, you ignore all difficult terrain and do not take any penalties for moving through it. You can use this ability a number of times per day equal to 3 + your Wisdom modifier.
Dimensional Hop (Sp): At 8th level, you can teleport up to 10 feet per cleric level per day as a move action. This teleportation must be used in 5-foot increments and such movement does not provoke attacks of opportunity. You must have line of sight to your destination to use this ability. You can bring other willing creatures with you, but you must expend an equal amount of distance for each creature brought.
SPELLS
Spell Save DC: 10 +7(Wis mod) + Spell level = 17+...
Spells per day (+domain,+bonus for high WIS):
0 – 4, 1st – 4+1+2, 2nd – 3+1+2, 3rd – 3+1+2, 4th – 2+1+1, 5th - 1+1+1
(*Memorized for the day)
Domain Spells:
1st:
Lesser Confusion
*Longstrider
2nd:
*Touch of Idiocy
Locate Object
3rd:
Rage
*Fly
4th:
Confusion
*Dimension Door
5th:
Nightmare
*Teleport
Cleric Spells (from CRB):
0-Level Cleric Spells (Orisons)
Bleed: Cause a stabilized creature to resume dying.
Create Water: Creates 2 gallons/level of pure water.
*Detect Magic: Detects spells and magic items within 60 ft.
Detect Poison: Detects poison in one creature or object.
*Guidance: +1 on one attack roll, saving throw, or skill check.
*Light: Object shines like a torch.
Mending: Makes minor repairs on an object.
Purify Food and Drink: Purifies 1 cu. ft./level of food or water.
*Read Magic: Read scrolls and spellbooks.
Resistance: Subject gains +1 on saving throws.
Stabilize: Cause a dying creature to stabilize.
Virtue: Subject gains 1 temporary hp.
1st-Level Cleric Spells
Bane: Enemies take –1 on attack rolls and saves against fear.
*Bless: Allies gain +1 on attack rolls and saves against fear.
Bless WaterM: Makes holy water.
*Cause Fear: One creature of 5 HD or less flees for 1d4 rounds.
*Command: One subject obeys selected command for 1 round.
Comprehend Languages: You understand all spoken and written languages.
*Cure Light Wounds: Cures 1d8 damage + 1/level (max +5).
Curse WaterM: Makes unholy water.
Deathwatch: Reveals how near death subjects within 30 ft. are.
Detect Chaos/Evil/Good/Law: Reveals creatures, spells, or objects of selected alignment.
Detect Undead: Reveals undead within 60 ft.
Divine Favor: You gain +1 per three levels on attack and damage rolls.
*Doom: One subject takes –2 on attack rolls, damage rolls, saves, and checks.
Endure Elements: Exist comfortably in hot or cold regions.
Entropic Shield: Ranged attacks against you have 20% miss chance.
Hide from Undead: Undead can't perceive one subject/level.
Inflict Light Wounds: Touch deals 1d8 damage +1/level (max +5).
Magic Stone: Three stones gain +1 on attack, deal 1d6 +1 damage.
Magic Weapon: Weapon gains +1 bonus.
*Obscuring Mist: Fog surrounds you.
Protection from Chaos/Evil/Good/Law: +2 to AC and saves, plus additional protection against selected alignment.
Remove Fear: Suppresses fear or gives +4 on saves against fear for one subject + one per four levels.
Sanctuary: Opponents can't attack you, and you can't attack.
Shield of Faith: Aura grants +2 or higher deflection bonus.
Summon Monster I: Summons extraplanar creature to fight for you.
2nd-Level Cleric Spells
Aid: +1 on attack rolls and saves against fear, 1d8 temporary hp +1/level (max +10).
Align Weapon: Weapon becomes good, evil, lawful, or chaotic.
AuguryMF: Learns whether an action will be good or bad.
Bear's Endurance: Subject gains +4 to Con for 1 min./level.
*Bull's Strength: Subject gains +4 to Str for 1 min./level.
Calm Emotions: Calms creatures, negating emotion effects.
ConsecrateM: Fills area with positive energy, weakening undead.
*Cure Moderate Wounds: Cures 2d8 damage + 1/level (max +10).
Darkness: 20-ft. radius of supernatural shadow.
Death Knell: Kills dying creature; you gain 1d8 temporary hp, +2 to Str, and +1 caster level.
Delay Poison: Stops poison from harming target for 1 hour/level.
DesecrateM: Fills area with negative energy, making undead stronger.
Eagle's Splendor: Subject gains +4 to Cha for 1 min./level.
Enthrall: Captivates all within 100 ft. + 10 ft./level.
Find Traps: Notice traps as a rogue does.
Gentle Repose: Preserves one corpse.
Hold Person: Paralyzes one humanoid for 1 round/level.
Inflict Moderate Wounds: Touch attack, 2d8 damage + 1/level (max +10).
Make Whole: Repairs an object.
Owl's Wisdom: Subject gains +4 to Wis for 1 min./level.
Remove Paralysis: Frees creatures from paralysis or slow effect.
Resist Energy: Ignores 10 (or more) points of damage/attack from specified energy type.
Restoration, Lesser: Dispels magical ability penalty or repairs 1d4 ability damage.
Shatter: Sonic vibration damages objects or crystalline creatures.
Shield OtherF: You take half of subject's damage.
*Silence: Negates sound in 20-ft. radius.
Sound Burst: Deals 1d8 sonic damage to subjects; may stun them.
*Spiritual Weapon: Magic weapon attacks on its own.
Status: Monitors condition, position of allies.
*Summon Monster II: Summons extraplanar creature to fight for you.
Undetectable Alignment: Conceals alignment for 24 hours.
Zone of Truth: Subjects within range cannot lie.
3rd-Level Cleric Spells
*Animate DeadM: Creates undead skeletons and zombies.
Bestow Curse: –6 to an ability score; –4 on attack rolls, saves, and checks; or 50% chance of losing each action.
Blindness/Deafness: Makes subject blinded or deafened.
Contagion: Infects subject with chosen disease.
Continual FlameM: Makes a permanent, heatless light.
Create Food and Water: Feeds three humans (or one horse)/level.
*Cure Serious Wounds: Cures 3d8 damage + 1/level (max +15).
Daylight: 60-ft. radius of bright light.
Deeper Darkness: Object sheds supernatural shadow in 60-ft. radius.
Dispel Magic: Cancels one magical spell or effect.
Glyph of WardingM: Inscription harms those who pass it.
Helping Hand: Ghostly hand leads subject to you.
*Inflict Serious Wounds: Touch attack, 3d8 damage + 1/level (max +15).
Invisibility Purge: Dispels invisibility within 5 ft./level.
Locate Object: Senses direction toward object (specific or type).
Magic Circle against Chaos/Evil/Good/Law: As protection spells, but 10-ft. radius and 10 min./level.
Magic Vestment: Armor or shield gains +1 enhancement per four levels.
Meld into Stone: You and your gear merge with stone.
Obscure Object: Masks object against scrying.
Prayer: Allies get +1 bonus on most rolls, enemies –1 penalty.
*Protection from Energy: Absorb 12 points/level of damage from one kind of energy.
Remove Blindness/Deafness: Cures normal or magical blindness or deafness.
Remove Curse: Frees object or person from curse.
Remove Disease: Cures all diseases affecting subject.
Searing Light: Ray deals 1d8/two levels damage (more against undead).
Speak with Dead: Corpse answers one question/two levels.
Stone Shape: Sculpts stone into any shape.
*Summon Monster III: Summons extraplanar creature to fight for you.
Water Breathing: Subjects can breathe underwater.
Water Walk: Subject treads on water as if solid.
Wind Wall: Deflects arrows, smaller creatures, and gases.
4th-Level Cleric Spells
*Air Walk: Subject treads on air as if solid (climb or descend at 45-degree angle).
Chaos Hammer: Harms and slows lawful creatures (1d8 damage/2 levels).
Control Water: Raises or lowers bodies of water.
*Cure Critical Wounds: Cures 4d8 damage + 1/level (max +20).
Death Ward: Grants bonuses against death spells and negative energy.
Dimensional Anchor: Bars extradimensional movement.
Discern Lies: Reveals deliberate falsehoods.
Dismissal: Forces a creature to return to native plane.
DivinationM: Provides useful advice for specific proposed actions.
Divine Power: You gain attack bonuses and 1 hp/level.
Freedom of Movement: Subject moves normally despite impediments to movement.
Giant Vermin: Turns centipedes, scorpions, or spiders into giant vermin.
Holy Smite: Harms and possibly blinds evil creatures (1d8 damage/2 levels).
Imbue with Spell Ability: Transfer spells to subject.
Inflict Critical Wounds: Touch attack, 4d8 damage + 1/level (max +20).
Magic Weapon, Greater: Weapon gains +1 bonus/four levels (max +5).
Neutralize Poison: Immunizes subject against poison, detoxifies venom in or on subject.
Order's Wrath: Harms and dazes chaotic creatures (1d8 damage/2 levels).
Planar Ally, LesserM: Exchange services with a 6 HD extraplanar creature.
Poison: Touch deals 1d3 Con damage 1/round for 6 rounds.
Repel Vermin: Insects, spiders, and other vermin stay 10 ft. away.
RestorationM: Restores level and ability score drains.
Sending: Delivers short message anywhere, instantly.
Spell Immunity: Subject is immune to one spell per 4 levels.
*Summon Monster IV: Summons extraplanar creature to fight for you.
Tongues: Speak and understand any language.
Unholy Blight: Harms and sickens good creatures (1d8 damage/2 levels).
5th-Level Cleric Spells
AtonementFM: Removes burden of misdeeds from subject and reverses magical alignment change.
Break Enchantment: Frees subjects from enchantments, transmutations, and curses.
Breath of Life: Cures 5d8 damage + 1/level and restores life to recently slain creatures.
Command, Greater: As command, but affects one subject/level.
CommuneM: Deity answers one yes-or-no question/level.
Cure Light Wounds, Mass: Cures 1d8 damage + 1/level, affects 1 subject/level.
Dispel Chaos/Evil/Good/Law: +4 bonus against attacks.
Disrupting Weapon: Melee weapon destroys undead.
Flame Strike: Smites foes with divine fire (1d6/level damage).
HallowM: Designates location as holy.
Inflict Light Wounds, Mass: Deals 1d8 damage + 1/level, affects 1 subject/level.
Insect Plague: Wasp swarms attack creatures.
Mark of Justice: Designates action that triggers curse on subject.
*Plane ShiftF: As many as 8 subjects travel to another plane.
Raise DeadM: Restores life to subject who died as long as one day/level ago.
Righteous Might: Your size increases, and you gain bonuses in combat.
ScryingF: Spies on subject from a distance.
Slay Living: Touch attack deals 12d6 + 1 per level.
*Spell Resistance: Subject gains SR 12 + level.
Summon Monster V: Summons extraplanar creature to fight for you.
Symbol of PainM: Triggered rune wracks nearby creatures with pain.
Symbol of SleepM: Triggered rune puts nearby creatures into catatonic slumber.
True SeeingM: Lets you see all things as they really are.
UnhallowM: Designates location as unholy.
Wall of Stone: Creates a stone wall that can be shaped.
MYTHIC
Path: Hierophant
Feat: Titan Strike: 1d8
Abilities:
Hard to Kill
Mythic Power
Surge (Divine) +1d6
Faith's Reach
ITEMS
Combat Gloves (Force Imbued +2)
Gaffi Stick (Force Imbued +1)
Monk's Robe
Belt of Giant Strength +4 STR
Headband of Inspired Wisdom +4 WIS
EQUIPMENT:
Internal Frame Backpack...
~Field Kit (Daypack containing: X2 condensing canteens w/ water purification, sunshield roll, food rations- one week supply, x2 glow rods, x2 breath masks, x24 filters, x12 atmosphere canisters, all-temperature cloak)
~Aquata Breather
~Credit Chip
~Datapad
~Electrobinoculars
~Fusion Lantern
~Holorecorder
~Liquid Cable Dispenser
~Medical Kit
~Medpac
~Recording Rod
~Sensor Pack
~Tool Kit
~Comlink (headset or handheld)
~Droid: Irwin
TREASURE
7,000 GP
Notes...
~Flurry of Blows: Starting at 1st level, a monk can make a flurry of blows as a full-attack action.
When doing so, he may make one additional attack, taking a –2 penalty on all of his attack rolls, as if using the Two-Weapon Fighting feat. These attacks can be any combination of unarmed strikes and attacks with a monk special weapon (he does not need to use two weapons to utilize this ability).
For the purpose of these attacks, the monk's base attack bonus from his monk class levels is equal to his monk level. For all other purposes, such as qualifying for a feat or a prestige class, the monk uses his normal base attack bonus.
~Feat: Liberator (Story)
Your time in shackles has forever marked your soul.
Prerequisite: You must have been enslaved for at least 6 months, or have the Imprisoned or Kidnapped background.
Benefit: You gain a +1 bonus on attack rolls, weapon damage rolls, and skill checks when your actions would directly lead to freeing prisoners or slaves.
Goal: Free at least 200 slaves through perilous rescues (not merely buying them at market).
Completion Benefit: You gain the ability to inspire others through your dedication to your cause. Allies within 20 feet receive your Liberator feat bonuses when working with you to free prisoners or slaves. In addition, as a standard action you can inspire slaves and former slaves within 120 feet, giving them temporary hit points equal to 1/2 your character level and a +1 bonus on saving throws. These benefits last for 1 hour, and a given creature can receive this benefit only once per day. These are mind-affecting effects, and the inspiring bonus is language-dependent.
~IRWIN (notes)...
GM:
"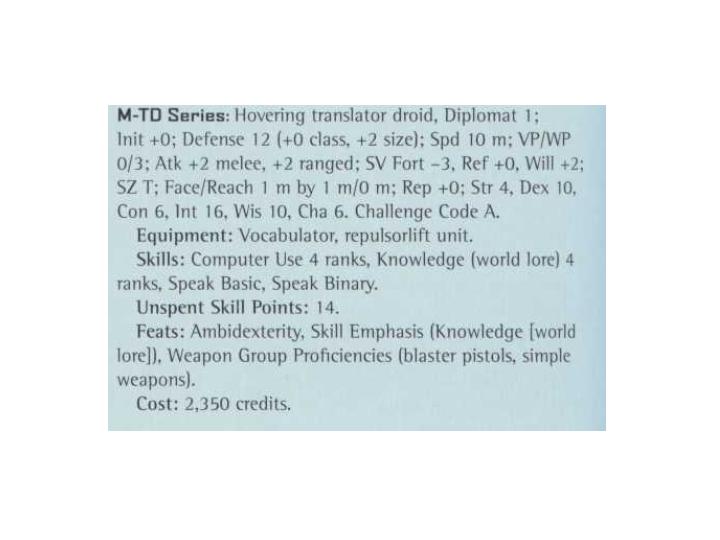 + holo recorder\camera
+ microphone
100 hrs of video storage capacity
1 empty tool mount (you can fill in later) [blaster pistol]
+ persistent personality feat
+ speed is 16, perfect flying
cut the unspent skill points down to 8 (since he got some bonus stuff), but use them for additional languages or knowledges
[edit]
+4 Stealth
+4 Perception
I look at it like a skill program, so call it 4 ranks in each, consider it a class skill for any future allocation.
It is a bit confusing since I took a few skill points away for the extra feats and gear I gave him, sorry. Irwin is a level 1 Diplomat, as listed in his info. If you add up the skill points, he gets 3 for diplomat and 3 for his Int bonus.
Irwin, assuming he accompanies you and actually does things, will progress in levels like a familiar or a pet, always staying 3 levels behind you. So Irwin will get 6 skill points at next level, along with whatever other stat adjustments come with a Diplomat 2. At 3, he gets another feat, etc etc
If you want Irwin to learn a totally new skill, you will need to buy a program for that skill to get it started (and spend the skill points, of course).
Don't forget, Irwin still has an empty mount space..... if anyone in the party has Repair, Computer use and the appropriate craft skills....."
"Can Irwin have an installed Commlink?"
GM: "I am sure there would be room for that. Somebody with some combination of the following skills could probably accomplish that easily enough
Repair + 1 of the others
knowledge: droids, technology
craft: droids, technology"
Last edited by Robyo on Sat Nov 28, 2015 12:58 am; edited 14 times in total