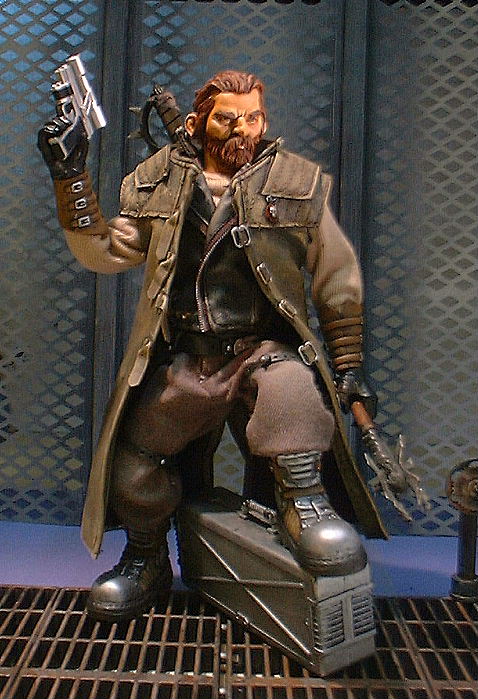 Tunnel Rat and Sapper
Rogue\Ranger (6\1)
str  16 (18)
dex  16 (4th)
con  14
int 14
wis 15
cha 8
fort = +7 (2+2+2+1) + 4 racial spells\SLA\poison
ref = +11 (5+2+3+1) +4 racial  spells\SLA  (+2 vs Traps)
will =  +5 (2+2+1) + 4 racial  spells\SLA
HP 72
Init +5
AC 20  (+2 vs Traps)
(modern\mithral) Breastplate +1 (counts as light for Evasion) 6 + 3 (4 max) dex, -2 ACP
BAB +5
Dwar axe (+1) +10 1d10 +5 (+7 2h)
MW guns + 9 (+9 at PB, +1 dam)
MW melee +10
Ranger Trophy Hunter archtype
Improved Tracking (Ex): At 1st level, a trophy hunter gains a +2 bonus on Survival skill checks when following or identifying tracks. When he tracks, he can also attempt a Knowledge (nature) check at DC 15. On a success, the trophy hunter can discern the type and condition of any animals or magical beasts he tracks. By studying their tracks, the trophy hunter is able to identify a rough approximation of their health, maneuverability, and their general behavior as compared to the norm. This ability replaces wild empathy.   (that is such junk anyways, good riddance!)
Stealth 7+3+3 = 13  
Acro 7+3+3 +5 = 18
DD  7+3+3 +2 = 15 (+3 vs traps)
Perception 7+3+2+5 = 17 (+3 vs traps) (+2 stone, free notice check 10ft)
UMD 7 + 3 -1 = +9
know (engineering) 5 +3 +2= 10
know (nature) 1 + 3 + 2 = +6
Know (geography) 1 + 3 +2 = +6
Know (local) 7 + 3 + 2 = +6
know (streetwise) = local
Survival (tracking) 7 +3 +2 +2 +1 +5 = +20
Sense Motive 1 + 3 + 2 = +6
Escape Artist 1 + 3 + 3 = 7
Bluff 1 + 3 - 1 = +3
Appraise 1 + 3 + 2 = +6
Drive 1 +3 +3 = 7
Climb 5 +3 + 4 +2 = 15
Heal 1 +3 +3 +2 = 9
Swim 1 +3 +4  = 8
Demolitions 7 + 3 +2 +2 +2 = 16
Languages: English (common) German (replace dwarven) Arabic and Turkish
Abilities:
Trapfinding +1/2 lvl Perception + DD for traps (+3)
Evasion
Sneak Attack +3d6
Rogue Talents 3: ki pool [3], vanishing trick [6rds], Offensive Defense +1 AC per Sneak Attack die for 1 rd
ki pool w\ ki = always running start on jump, +10ft spd 1 rd, +4 stealth 1 rd
Scout's Charge (-Uncanny Dodge)
Tracking
Favored Enemy - undead +2 bonus on Bluff, Knowledge, Perception, Sense Motive, and Survival checks against creatures of his selected type. Likewise, he gets a +2 bonus on weapon attack and damage rolls
Slow and Steady: Dwarves have a base speed of 20 feet, but their speed is never modified by armor or encumbrance.
Darkvision: Dwarves can see in the dark up to 60 feet.
Defensive Training: Dwarves get a +4 dodge bonus to AC against monsters of the giant subtype.
Greed: Dwarves receive a +2 racial bonus on Appraise skill checks made to determine the price of nonmagical goods that contain precious metals or gemstones.
Hatred: Dwarves receive a +1 bonus on attack rolls against humanoid creatures of the orc and goblinoid subtypes due to special training against these hated foes.
Hardy: Dwarves receive a +2 racial bonus on saving throws against poison, spells, and spell-like abilities.
Stability: Dwarves receive a +4 racial bonus to their Combat Maneuver Defense when resisting a bull rush or trip attempt while standing on the ground.
Stonecunning: Dwarves receive a +2 bonus on Perception checks to potentially notice unusual stonework, such as traps and hidden doors located in stone walls or floors. They receive a check to notice such features whenever they pass within 10 feet of them, whether or not they are actively looking.
Weapon Familiarity: Dwarves are proficient with battleaxes, heavy picks, and warhammers, and treat any weapon with the word "dwarven" in its name as a martial weapon.
Languages: Dwarves begin play speaking Common and Dwarven.
Feats:
Steel Soul (double Hardy)
Point Blank Shot +1\+1
Quick Draw
Traits:
Exile +2 initiative
Armor expert -1 ACP
Moedern Breastplate +1  
Cloak of Resistance +1
silversheen 1
Boots Striding and Sprinting (+10ft spd + 5 acro)
Belt of Giant Str +2
Beneficial bandolier
Lens of Detection +5 perception and Survival (for Tracking only)
MW thieves tools +2  
climber kit +2
healer kit +2
Trench (Dwarven) Waraxe +1 (2000) 1d10
MW .45 hvy pistol   1d10x4, range 30,
MW Submachine gun (50drum)  1d8x4, range 40
MW Rifle   1d12x4, r100
MW double barrel tunnel-sweeper shotgun  4d8
MW Demo tool kit +2
MW trench club
MW trench knife
MW sapper tools (spades, hammers, stethoscope, pads, etc)
Dynamite sticks   x6  4d6+1
demo supplies enough to make 9 more dynamite sticks
trench lighter
flashlight
compass
stethoscope
regular stuff charge (50)
100 rds pistol
100 rifle
100 shotgun
200 submachine
00 cash
Last edited by Chirs2 on Wed Jul 23, 2014 10:42 pm; edited 2 times in total